Motor Home News
August 2020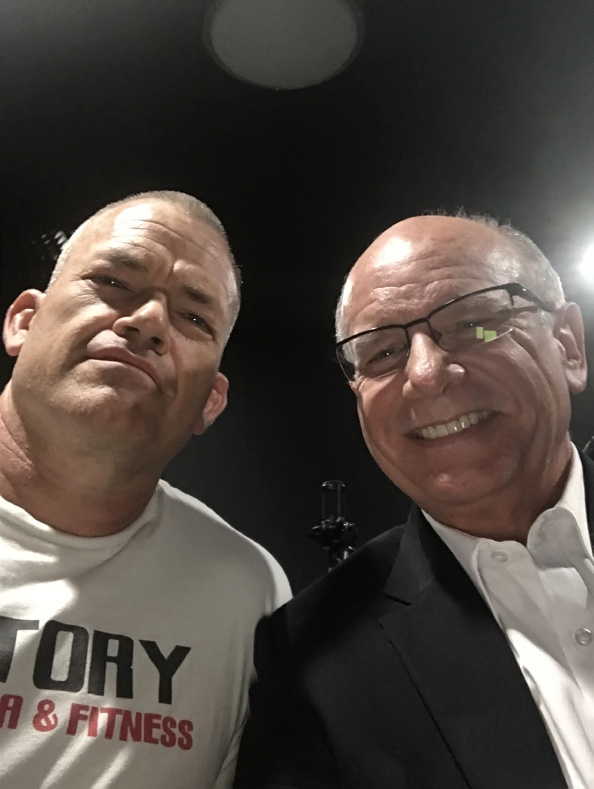 My Afternoon With a Navy SEAL
Two weeks ago I had the honor of spending a private afternoon with Commander of SEAL Team 3 and Tactical Instructor for the Navy SEALS, Jocko Willink. I became aware of Jocko thru his first book "Extreme Ownership" (a NY Times best-seller – a GREAT read). That book changed my life, opened my eyes, and taught me to take ownership of my mistakes –complete ownership, to never blame, and to remain on a life-path of growth, constant improvement, and humility.
I would later learn that Jocko and I have a mutual friend – and it was thru this friendship that our meeting was set.
Our scheduled 1 hour meeting lasted for 3 hours… I asked him dozens of questions – he would speak – I would listen… and learn – much of what he said touched my soul.
Thank you Jocko, thank you for your dedication to excellence, your dedication to constant improvement, your humble spirit, your ability to listen and to place the needs of the team, and the mission, ahead of your own. Thank you for showing me the areas of my life where I need to improve – to up my game -to do it better and to stay on the life-path of constant improvement, to be more humble, to talk less and to listen more.
Thank you Jocko Thank you for your service!!
Thank you for your friendship and for your trust!!
Jeff Bown
President
Motor Home News & Motor Home Tires
When you think Navy SEALS, you think strength. Both mental and physical. And although it takes YEARS to harness the strength of a SEAL, there are so many things you can do daily to keep your-self healthy and active while traveling.
Our number one suggestion…walking! It's low impact and a great activity for all ages! It's so easy to make excuses while traveling to not keep your body active. By mixing in a new hiking trail or walking a few laps around the RV Resort, you're soaking up some vitamin D and getting those endorphins pumping.
That combination makes for an amazing day!
"The only easy day was yesterday"
Code of the Navy SEALS
If walking isn't enough movement for you, utilize your coach! The front door steps make for a perfect place to do step-ups. The middle isle way is a great space for walking lunges. You can even add some heavy items (or rocks to a bag or backpack as additional weight for the exercise. And resistance bands are the ideal option for travel equipment.
These bands can be stored almost any-where on the coach, and can be utilized to train both upper and lower body! Our very own Director of Logistics and Social Media, Devon Butrum, spends her free time as a Certified Personal Trainer and we want to share some of her knowledge with you.
Below are links to a few great workouts she's created for any fitness level, that you can easily do on the road with little or no equipment needed!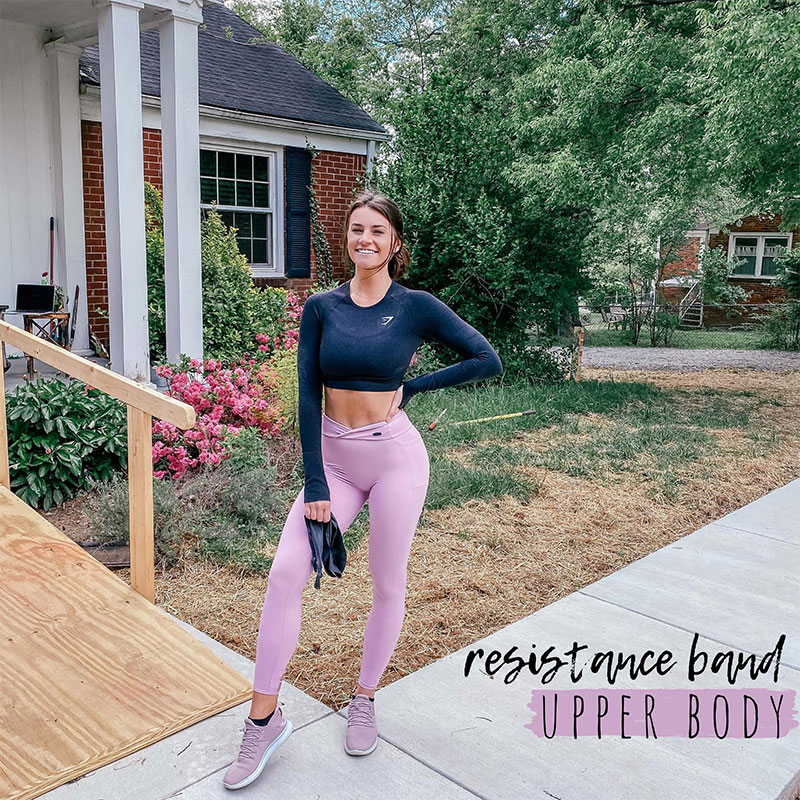 Exercise is great, but diet is a HUGE contributor to over health as well! At your next Campsite BBQ, swap out the high calorie, high fat potato salad for these simple but just as yummy Grilled Sweet Potatoes. No need for an extra trip to the grocery either, all these ingredients you probably have in your pantry!
INGREDIENTS NEEDED
Sweet Potatoes
Olive Oil
Pepper
Garlic Salt
Smoked Paprika
HOW TO PREPARE
Prep Grill – Preheat campsite grill to high.
Prep Sweet Potatoes – Wash the sweet potatoes,peel if desired and slice into half inch rounds.
Mix – Place sliced sweet potatoes into a bowl and addthe remaining ingredients; olive oil, pepper,garlic salt and smoked paprika. Toss to combine.
Grill – Lower heat to medium and add the potatoes tothe grill and grill for about 10 minutes on each side or until soft when pierced. Transfer potatoesto a platter for serving. Check the seasonings, add more salt if desired.
Enjoy!
So quick! So easy! And SO delicious!
Snap a pic before devouring them all and tag Motor Home Tires to show us how you made this "Campsite Bite" your own!!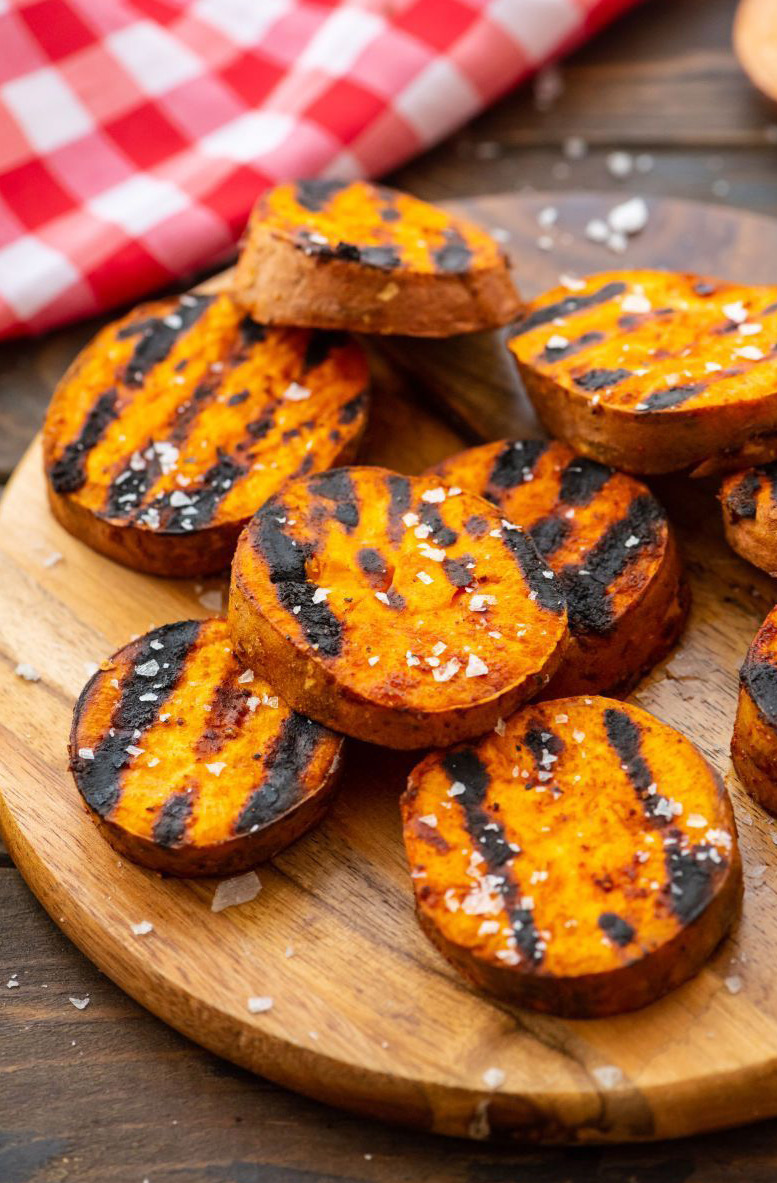 Frank, Kelly and Lennon House- Lady Lake Florida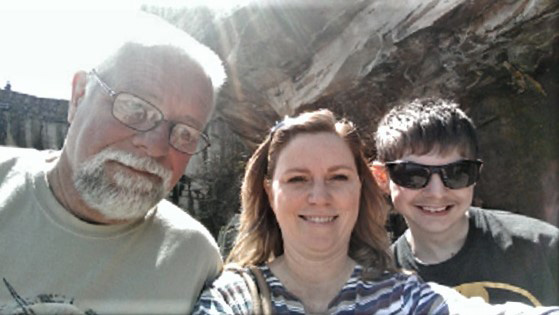 We started years ago camping in tents. After numerous rain wash outs and flat air mattresses, we decided to upgrade. We finally worked our way up to a Class C, then a Class A gas rig and our current RV a 40' Winnebago Class A Diesel Push-er. We have children and grandchildren scattered from Las Vegas to Iowa and back down to North Carolina. Our RVs have made visiting the kids more of an adventure than just travel for travel's sake.
We do a lot of camping in and around central Florida and the Pan Handle. We love to camp on the beach. Kelly's son Lennon is special needs and lives at home with us. Ever since Lennon was small he has always wished we could stay in a campground forever. We try to make that wish come true as often as possible.
Kelly works for a local Insurance Agency and I am recently retired. Many times when we camp somewhat close to home, Lennon our dog Dakoda and I will head out to the campground earlier in the week and Kelly joins us on Friday night. That way he and I get as much camping in as possible.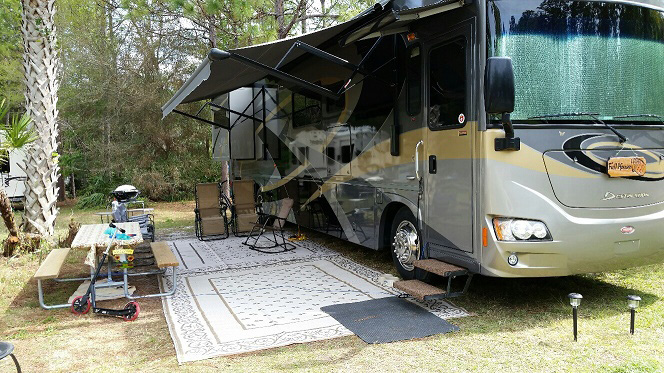 Every time Kelly and I jump into the bed of our RV when camping we both look at each other and say: "This sure beats a tent!"
Frank and Kelly, we love your story! It sounds like you guys are living the epitome of what camping life should be. Safe travels to you all forever more – thank you for your business and for your kind & adventurous spirits!
Happy Thanksgiving!Traditionally Thanksgiving is thought to be a day of family and friends bustling throughout the house with food, drink, and thanks filling the air… and mouths. But do not let that image fool you… Thanksgiving can be celebrated ANYWHERE that people...
read more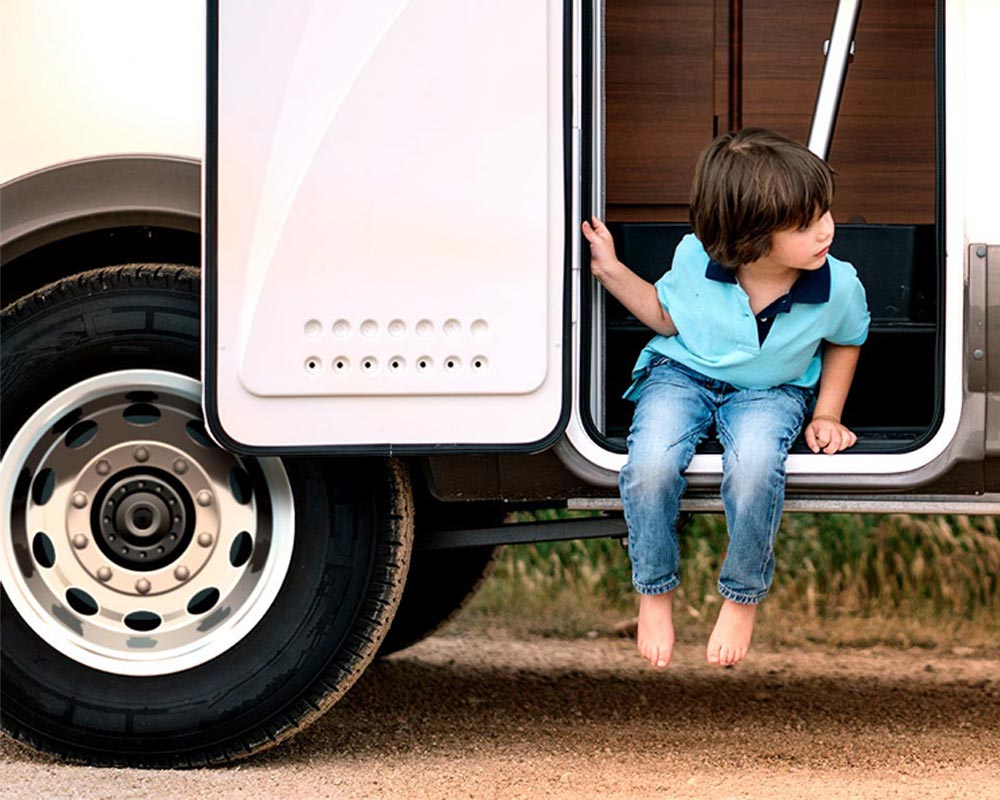 Subscribe For Updates & Offers